Did you know that you can make your own DIY Organic Fruit and Vegetable Wash and Spray for a fraction of the cost of store bought? With two very simple ingredients, you can make this stuff right at home.
For years, I have quite often bought those spray bottles of fruit and vegetable wash from the fruit and vegetable section at the grocery store. I was amazed that I was paying for something I can make right at home for practically nothing. Wow, if I could have all those $$$'s spent back in my bank account.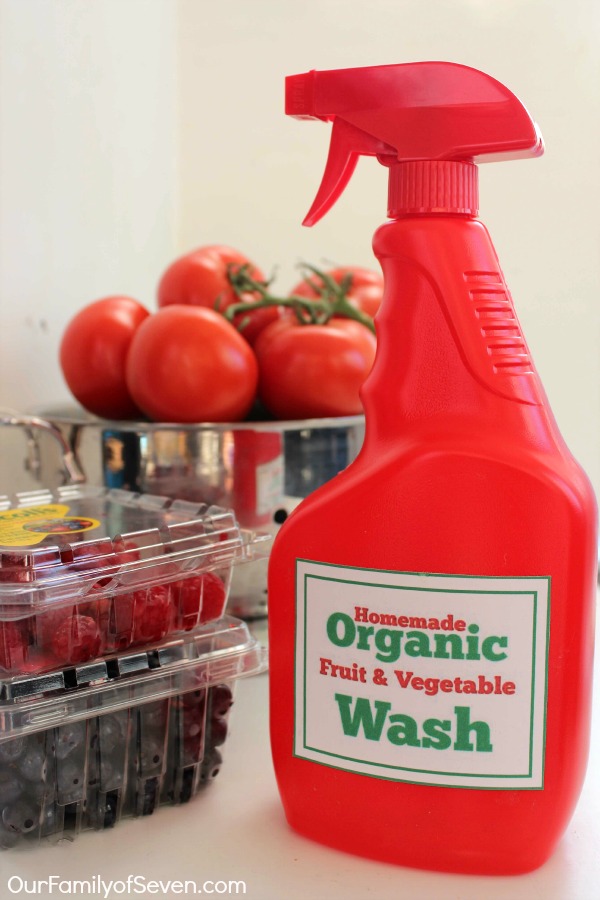 When we choose our fresh fruits and vegetables from the grocery, we need to bring them home and give them a good washing. A water rinse takes care of most of the germs but the addition of disinfectant is an additional barrier to anything that might be lingering on your fruits and veggies.
All that is needed to make your own Organic Fruit and Vegetable Wash and Spray is an organic lemon and white vinegar. That's it! Super Simple! Are you as amazed as I was?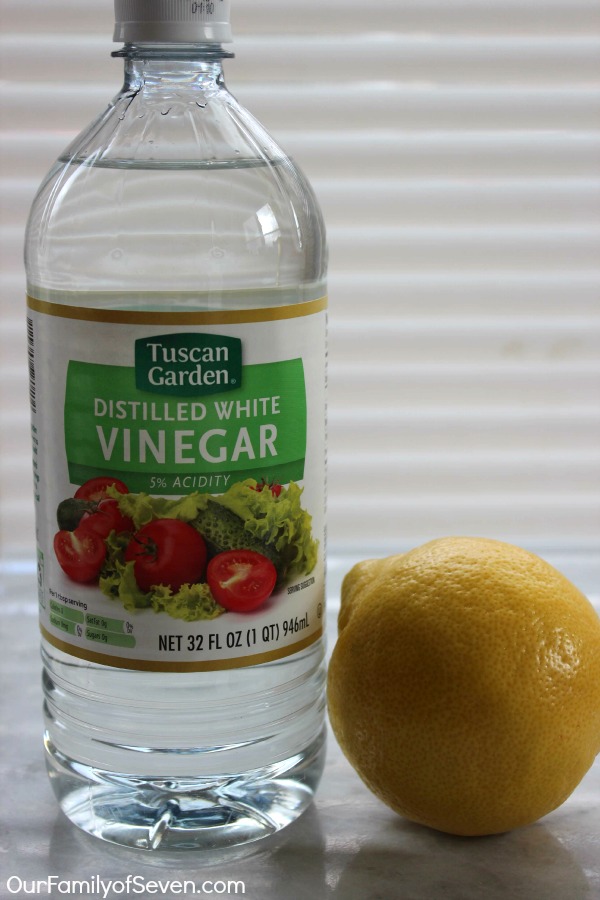 Supplies:
1 Organic Lemon
2 Tablespoons White Vinegar
1 Cup of Water
1 Spray Bottle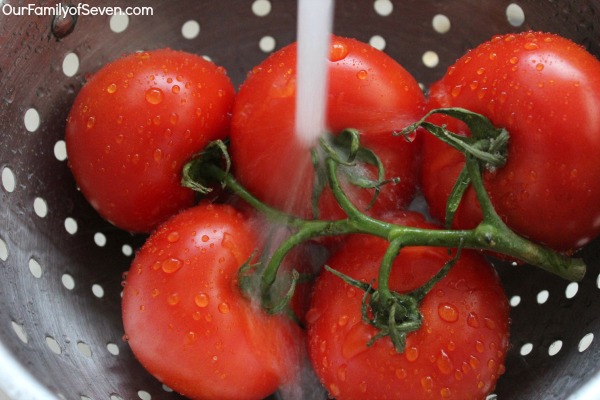 Instructions:
Slice your Lemon and squeeze out juices
Add 2 Tablespoon lemon juice to spray bottle
Add 2 Tablespoons White Vinegar to spray Bottle
Add 1 Cup of Water
Add on cap and shake
Spray fruits and vegetables after rinsing. Then rinse after spraying.
You can print a front & Back Fruit & Vegetable Wash Label here to add to your bottle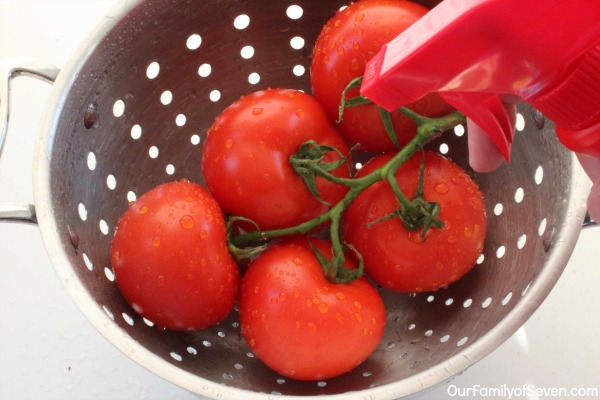 Both lemon and vinegar act as a disinfectant and will leave your fruits and veggies free from the harmful pesticides that may still be lingering on your food after a good wash. I now have the kiddos spraying their own fruits and veggies. I no longer have to guard the fruit and vegetable spray like it is cash, ha ha! Plus it is super easy for them to just remember to wash, spray, rinse.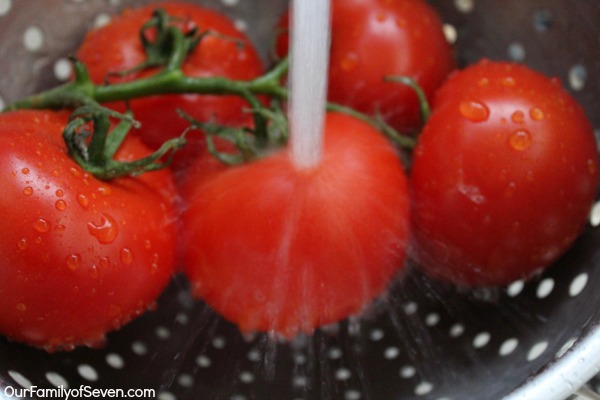 I had Cierra make me a cute front & back Organic Fruit & Vegetable Wash label to add to my spray bottle. The handy dandy instructions are right on the back for when I need to make more wash/spray. I have shared that with all of you here.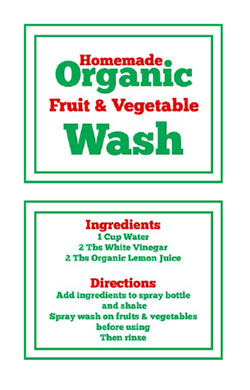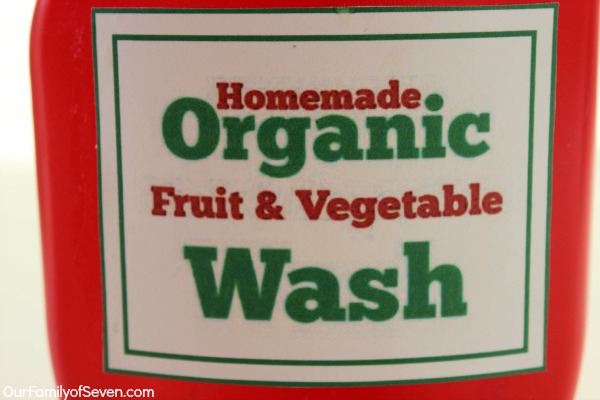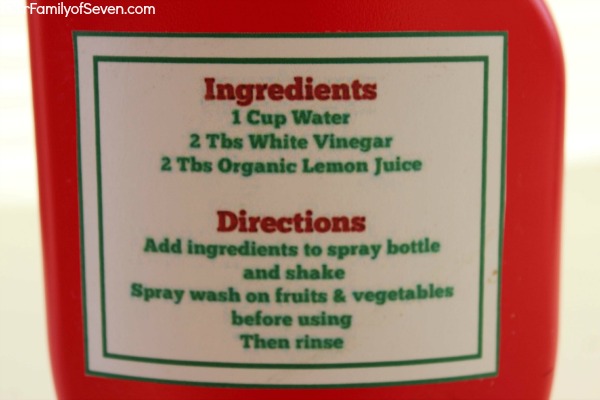 I tend to rinse and re-rinse my fruits and veggies so many times. All the dirt and pesticides that are used on fruit now days really scares the daylights out of me.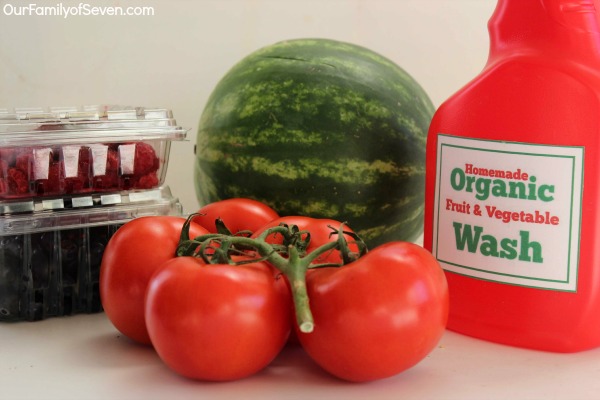 I was so happy when the fruit & veggie wash hit the stores a few years back. I am even more happy to know I can now make it at home. Do you normally use a store bought fruit & veggie wash mixture?