Blueberry Muffins are filled with juicy blueberries and topped with streusel. Delicious for breakfast or dessert- perfect for snacking too!
I love some tasty blueberry muffins- it's one of the best muffin recipes I've tried! Our recipe for homemade blueberry muffins is perfect for using up leftover fresh or frozen blueberries.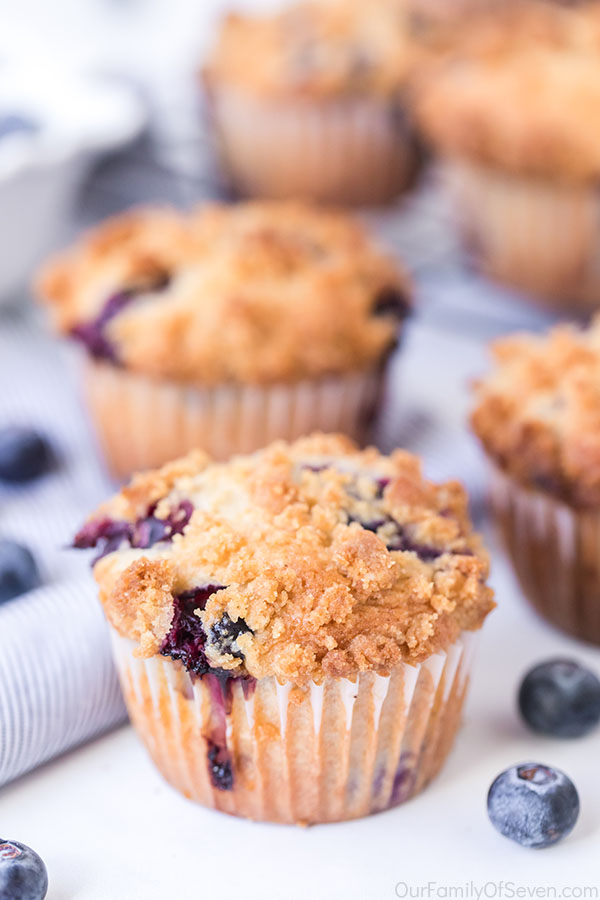 Blueberry Muffins
Muffins are some of the tastiest and easiest baked goods that you can make. What's even better is that you can take them in all sorts of different direction: you could do cornbread muffins, chocolate chip muffins- the possibilities are endless! Personally, when it comes to making muffins, I think the best has to be Blueberry Muffins.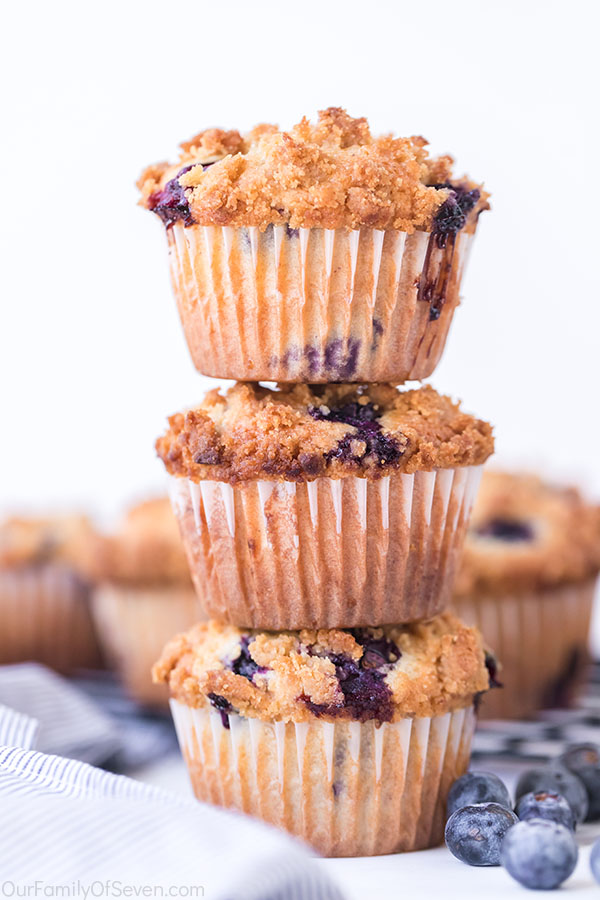 There's just something about ripe, delicious blueberries that works perfectly in a simple muffin batter. Those little bursts of flavor in a perfectly spiced muffin are just wonderful! Blueberries are also rich in antioxidants and nutrient, so if you cut back on the sugar you could make your blueberry muffins healthy.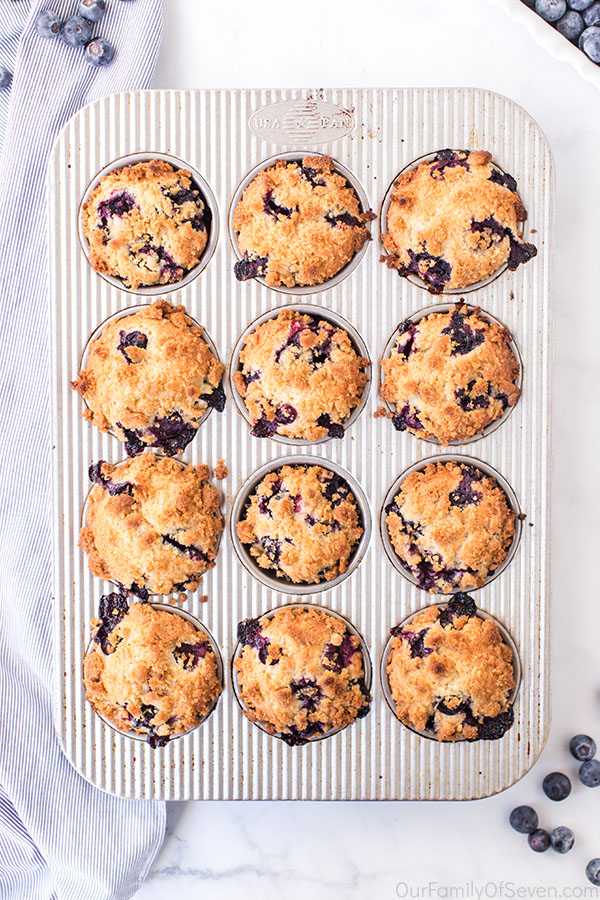 Back to our muffins, though: we enjoy a nice, simple muffin that doesn't need much extra prep. Just mix your batter up, fold in your blueberries, and bake. If you've got the time, an added streusel topping is amazing on these things!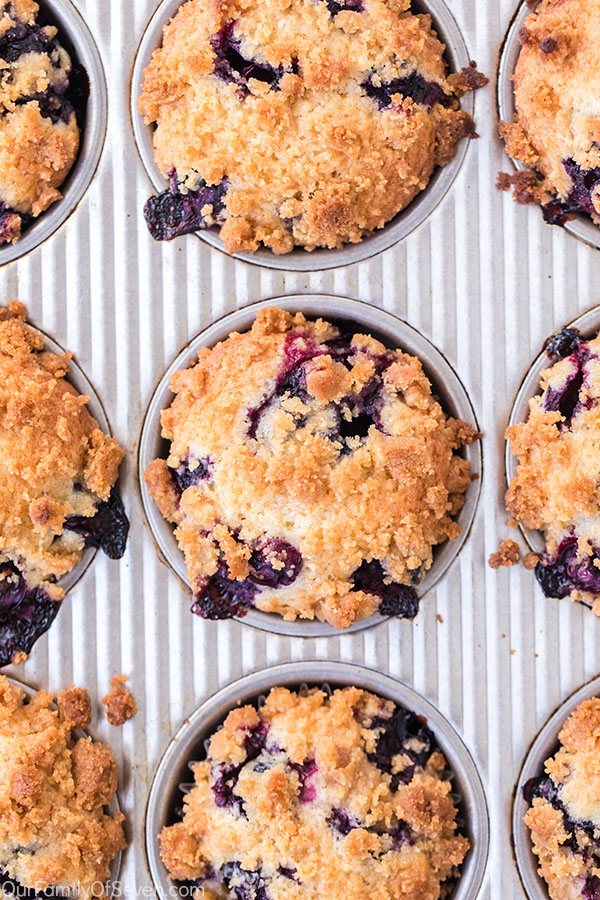 These muffins are perfect for whenever you've got some leftover blueberries. Fresh or frozen, they'll work great in our from scratch muffin recipe.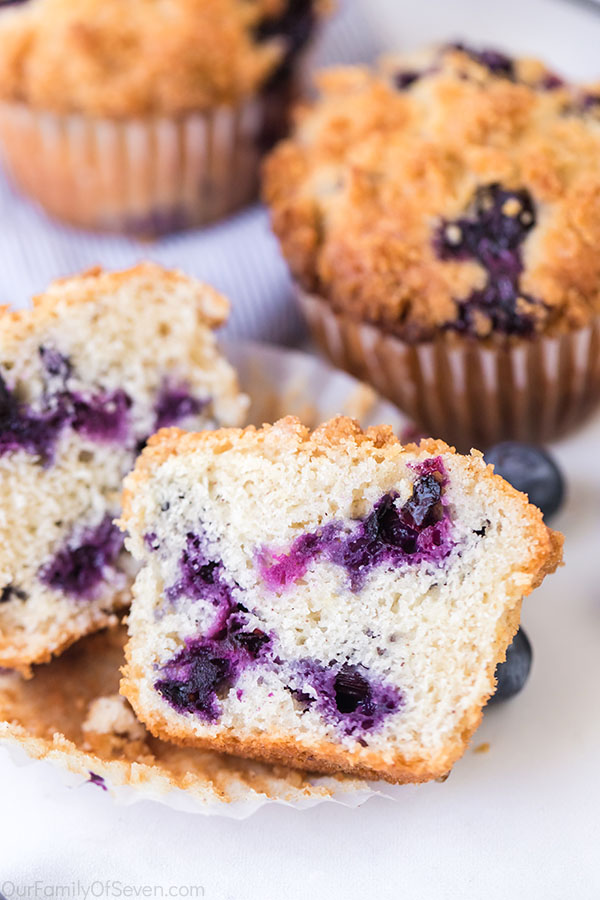 Hope you enjoy this easy recipe of ours! These muffins are great as a snack, for breakfast, or served up as a dessert. Whenever you have them, we know you'll love them!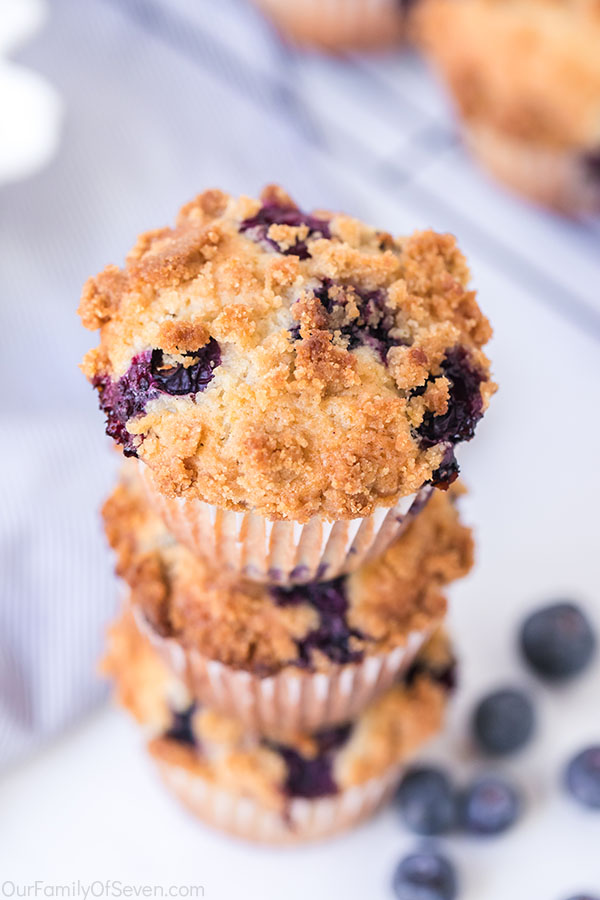 Ingredients for Muffins
Flour

Sugar

Baking Powder

Salt

Cinnamon

Vegetable Oil

Egg

Milk

Vanilla Extract

Blueberries

– This recipe is perfect for any fresh or frozen blueberries you have on hand! If using frozen, you may need to give your muffins an extra minute or two in the oven.
For the optional streusel topping, you'll also want some
brown sugar
, more
flour
, and
melted butter
.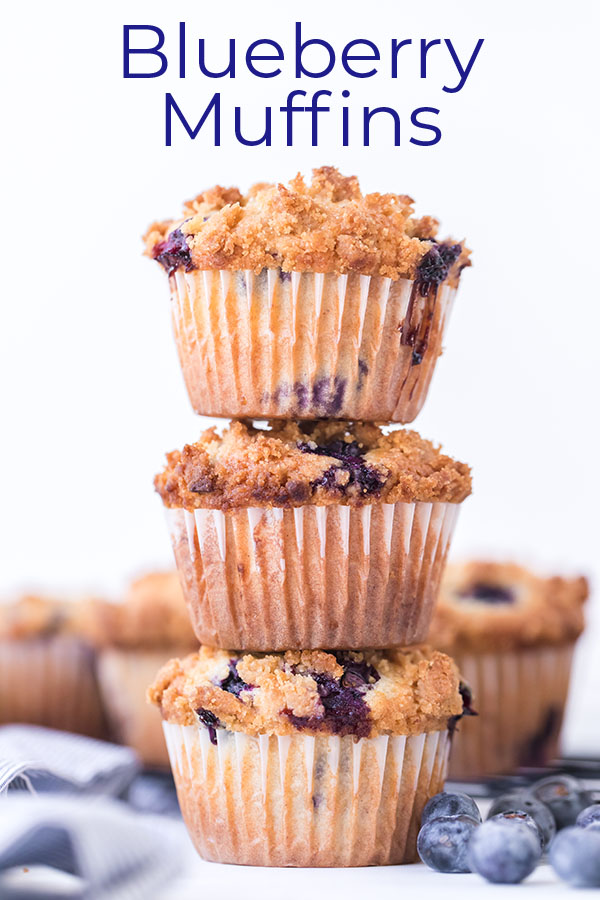 How to make Muffins at home
Baked goods may seem hard but they're very easy! To make Blueberry Muffins from scratch, here's all you'll have to do:
Mix your wet and dry ingredients

seperately

before

combining into a batter

and

folding in your blueberries

.

Spoon your batter into the cups of a greased muffin tray

and

top with more blueberries and streusel topping

.

Bake at 400 degrees

until golden-brown-

about 20-25 minutes

.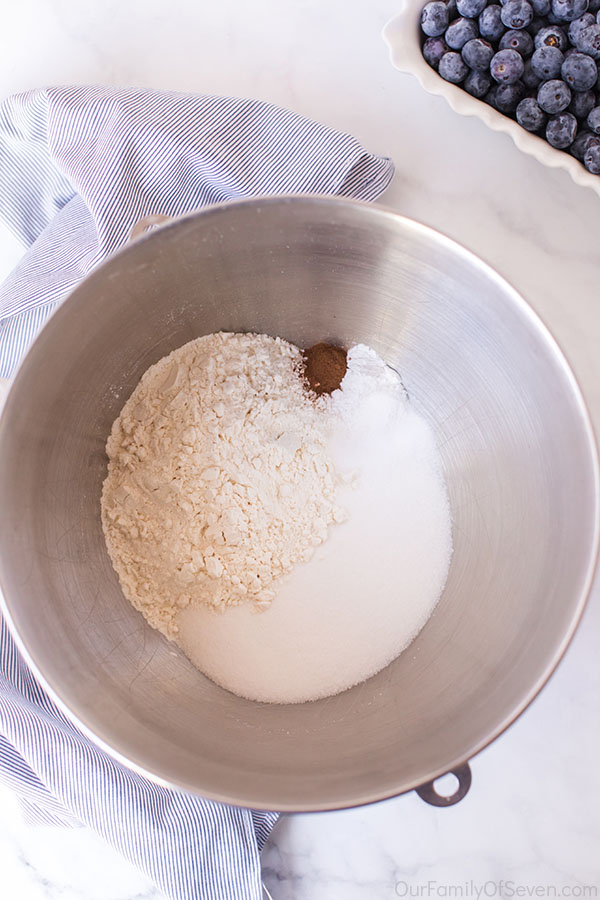 We start this recipe off by mixing our wet and dry ingredients seperately. In one bowl, whisk to combine all your dry ingredients- flour, sugar, baking powder, salt, and cinnamon. In a measuring cup, first add your oil and egg before adding your milk for a total volume of 1 cup. We want 1 cup of wet ingredients to get the right amount of moisture in our muffins.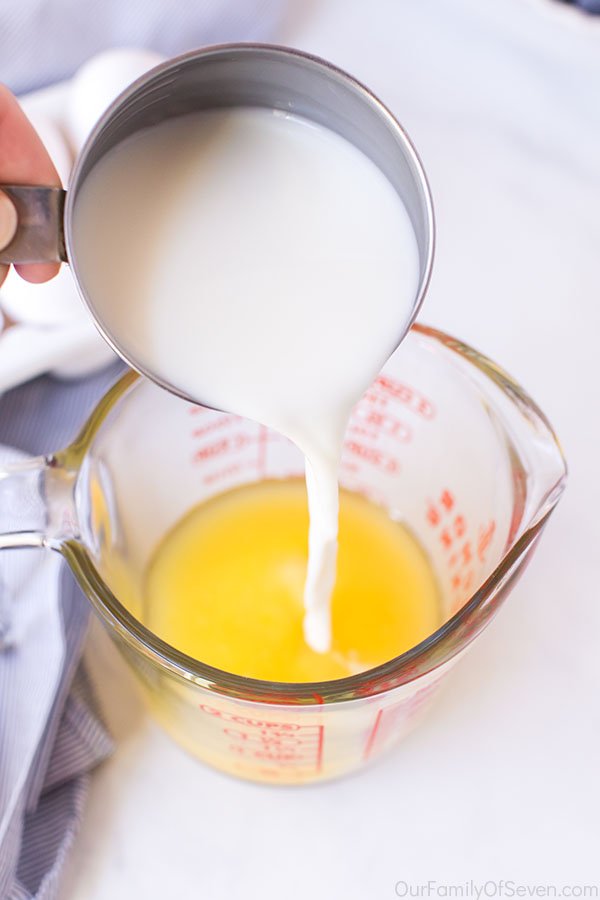 Mix the wet ingredients up and then add to the dry ingredients with a bit of vanilla. Stir until fully combined.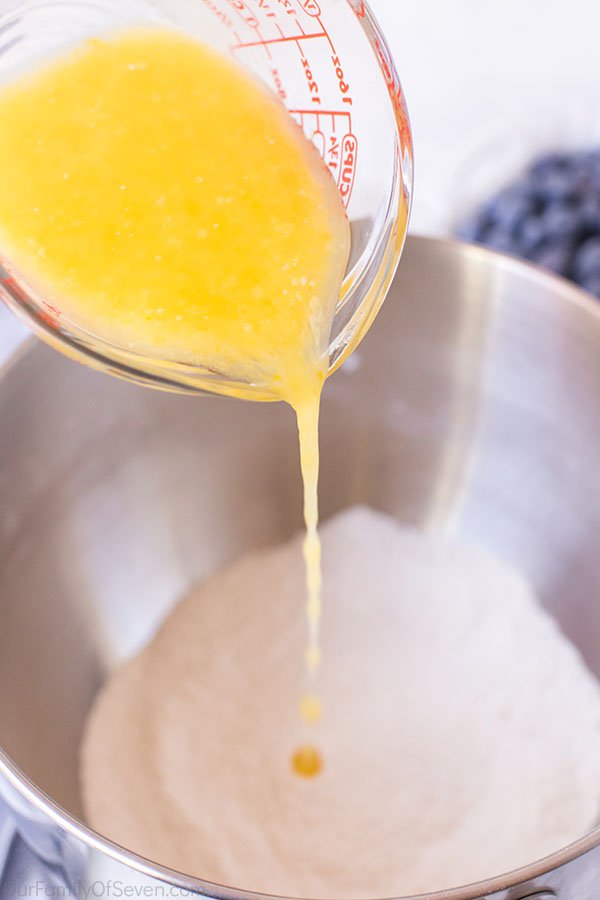 Once that's all mixed up, toss in most of your blueberries and fold them into the batter. Fold until they're evenly distributed.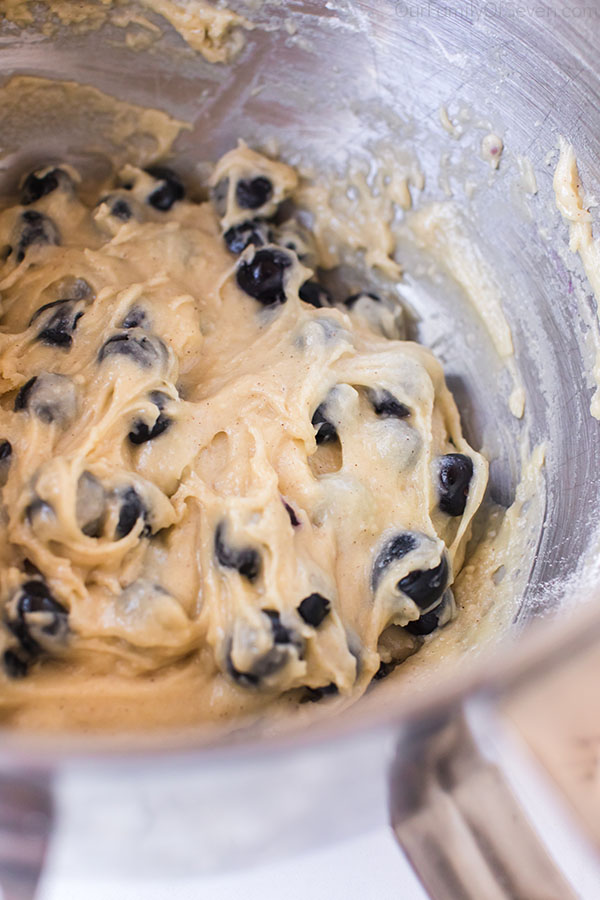 Grease or line your muffin tins and fill them 2/3 full with your muffin batter. Top with a few extra blueberries and an optional streusel topping!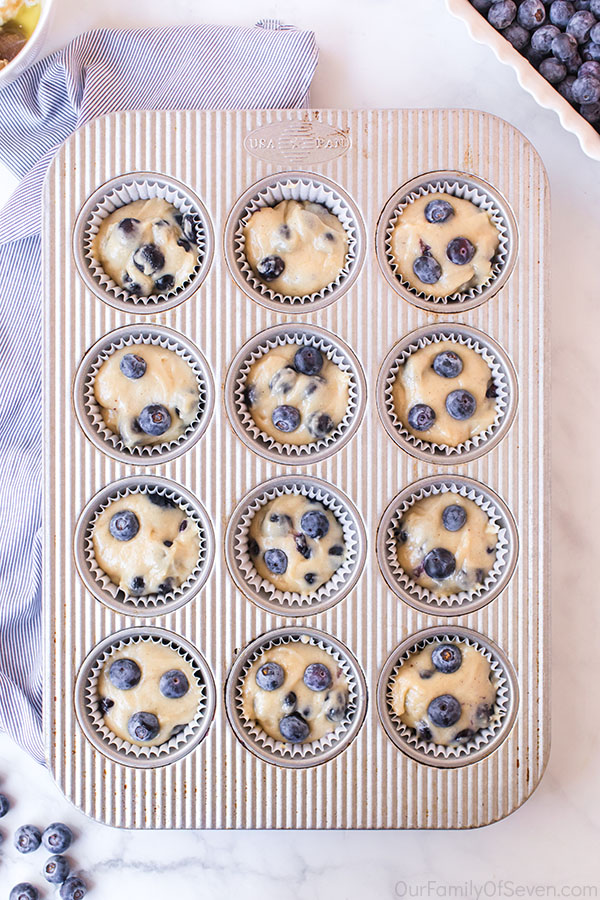 How to make streusel topping
Making this delicious homemade streusel topping is super simple. Give some flour and brown sugar a quick mix in a bowl before pouring some melted butter over top.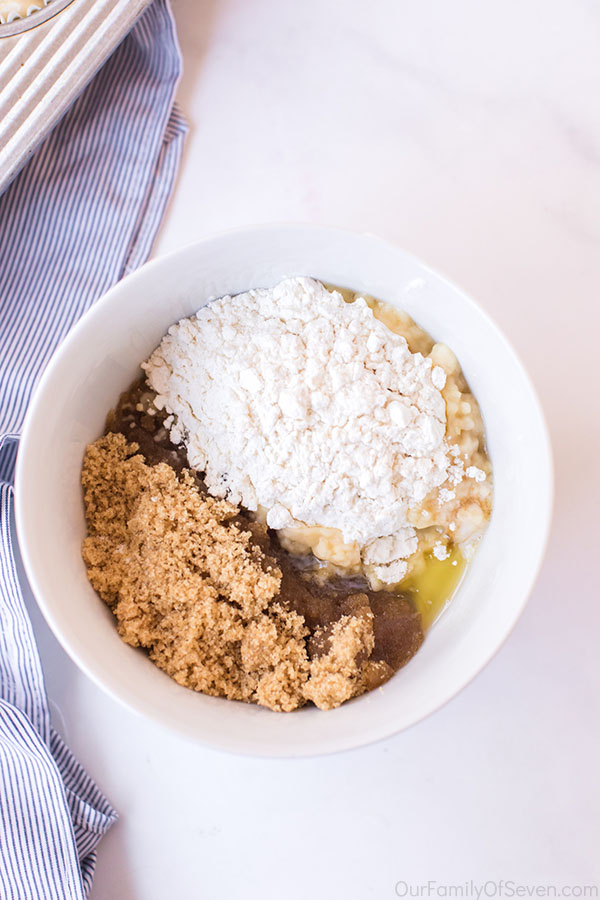 Mix that butter in and the flour and sugar should start to come together into a crumbly streusel topping. This stuff is great on all sorts of muffins and other baked goods- today, we're using it for our streusel-topped blueberry muffins. Give each muffin a generous sprinkling.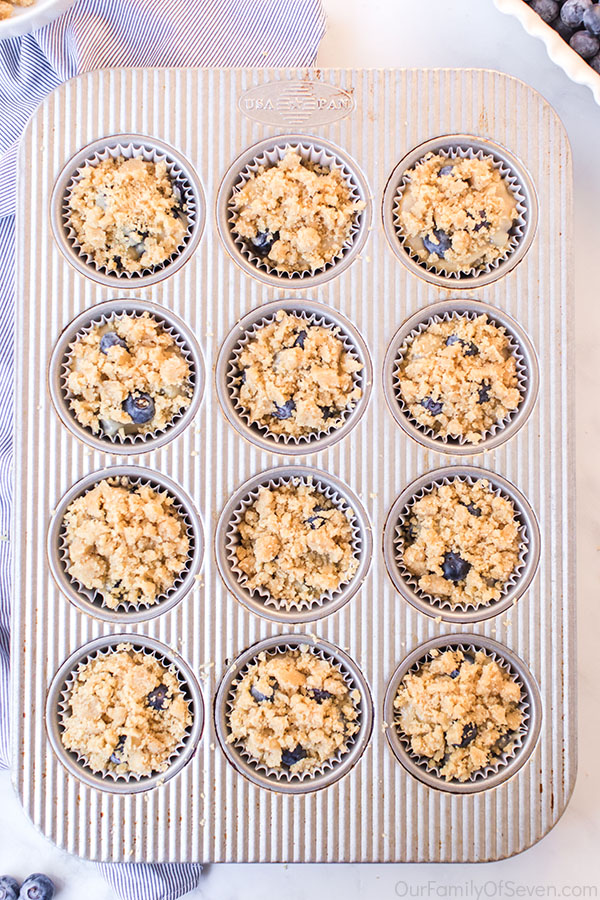 All that's left is to bake! Send your muffin tin into an awaiting 400 degree oven and give them about 20-25 minutes to bake to a delicious golden-brown color. To make sure they're done, give them a quick poke with a toothpick: if your toothpick pulls out any uncooked batter, your muffins need a few more minutes. If the toothpick pulls clean- besides a bit of blueberry juice- they're ready to eat. Enjoy!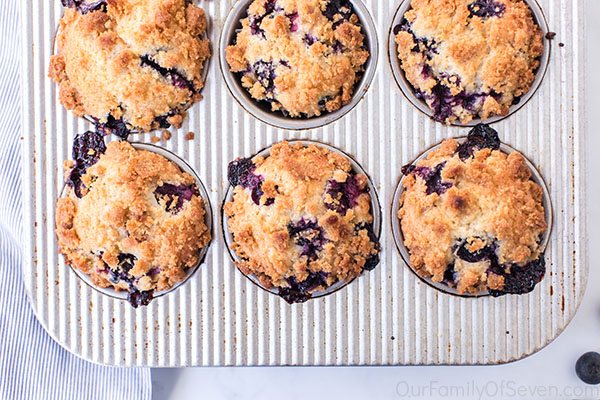 How long do Blueberry Muffins last?
These homemade muffins are pretty hardy! Kept at room temperature, they'll last for about 3 days. In the fridge, they'll last even longer- around a week. For long-term storage, keep in the freezer for up to 3 months. In all of these cases, store your muffins in an airtight container or plastic bag.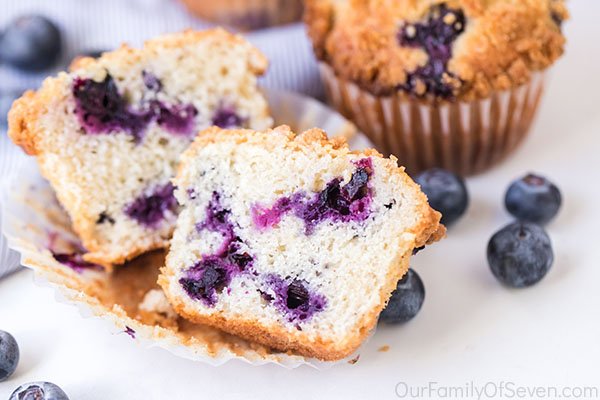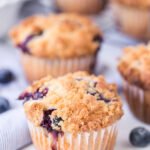 Print Recipe
Blueberry Muffins (with Streusel topping)
Ingredients
Muffins:
1 1/2

cup

Flour

1/4

cup

Sugar

2

tsp

Baking Powder

1/2

tsp

Kosher Salt

1/4

tsp

Cinnamon

1/3

cup

Vegetable Oil

1

large Egg

beaten

1/2

cup

Milk

approximate amount

1

tsp

Vanilla Extract

1 1/2

cup

Blueberries

fresh or frozen
Streusel Topping:
1/3

cup

Brown Sugar

1/4

cup

Flour

2

tbsp

Butter

melted
Instructions
Stir together all dry ingredients

In a glass measuring cup pour in 1/3 cup oil and beaten egg

Fill the glass measuring cup with enough milk to make 1 full cup of liquid ingredients. Depending on the size egg, the amount of milk added will be different every time.

Pour oil, egg, milk, and vanilla into the dry ingredients and stir until fully combined.

Gently fold in blueberries, trying not to break them

Grease or line muffin tin.

Spoon batter into muffin tins until each tin is about 2/3 full.

Place a couple more blueberries on top of each muffin

Make streusel by stirring brown sugar, flour, and butter together.

Sprinkle streusel on top of muffins

Bake at 400 degrees for 20-25 minutes or until golden brown.