If you are considering a trip to Disney World you should be checking out the 2015 Disney Free Dining Promotion. We are super excited to announce that we have booked our trip!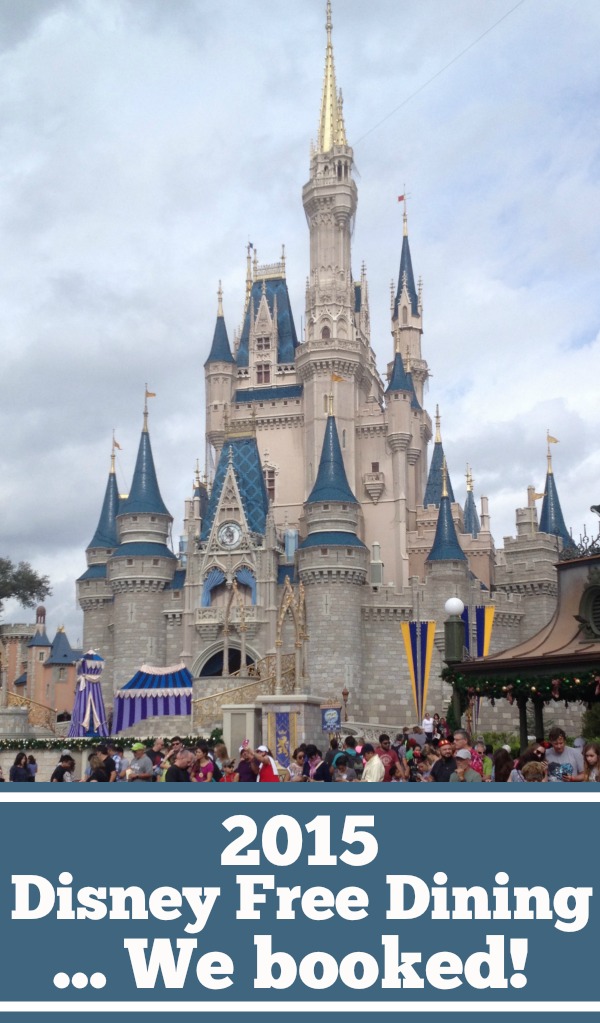 We officially booked our Disney vacation for 2015. This year, we will be traveling November 19th through November 24th. I am super excited to have been lucky enough again to score Free Dining for our trip. The savings that this offer brings for our family is huge. Since we are a family of seven, our dining bills while at Disney are nothing to sneeze at. As a matter of fact, we would not have been able to reserve a Disney vacation this year if the offer had not become available. Last year, we were fortunate enough to score free dining and we enjoyed an extremely magical Christmas vacation at Disney.
We are a large family and since standard rooms at Disney only have an occupancy of only 4 or 5 (depending on the resort you choose), we need to book two rooms. A suite that offers up enough occupancy for all of us is way more cost than booking two standard rooms. If you too have a larger family and thought you could not afford to take a Disney vacation, consider the two room option that will save you big $$'s.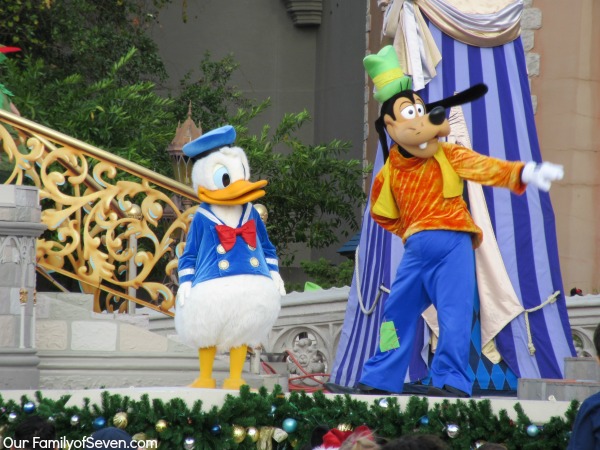 We chose Coronado Springs Resort which is a moderate priced Disney resort this year, just like last. We were extremely happy with our choice last time. I considered moving up to a Deluxe resort this time but it was very difficult to justify spending the extra when we were very pleased with our stay at Coronado Springs. Plus since we have two severely autistic children, staying with the resort we chose last time allows us to keep them comfortable with the environment. Since they both are now familiar with the resort, this alone should increase their comfort level with the whole trip.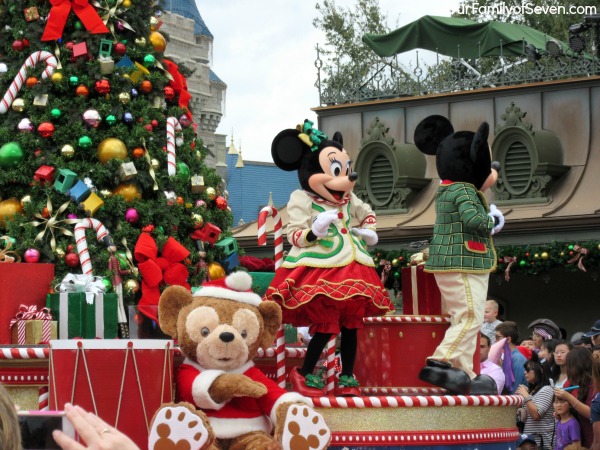 There is an added benefit to staying at a moderate priced Disney resort during the free dining promo. If you are staying at a value resort, your free dining will allow each guest 2 quick-service meals and 1 snack per day. If you choose to stay at a moderate or deluxe priced resort, you receive the benefit of receiving 1 table service meal, 1 quick-service meal and 1 snack per day. Since character meals and finer sit down meals require a table service credit, moderate or deluxe resorts will gain you the most savings with the free dining promotion.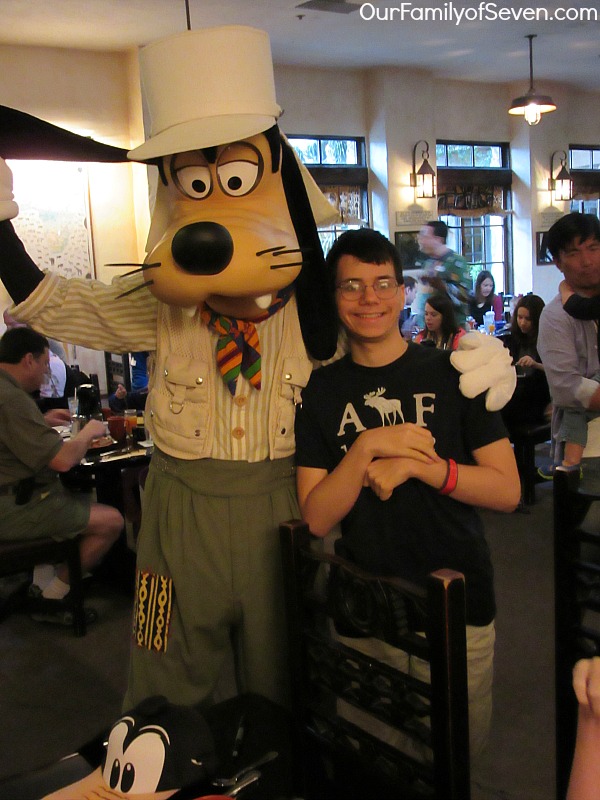 My kiddos are huge fans of character dining which require table service credits. The table service addition with a moderate priced resort booking allows us to afford those character and table service meals without worrying about out of pocket expenses. This option adds so much more to the vacation.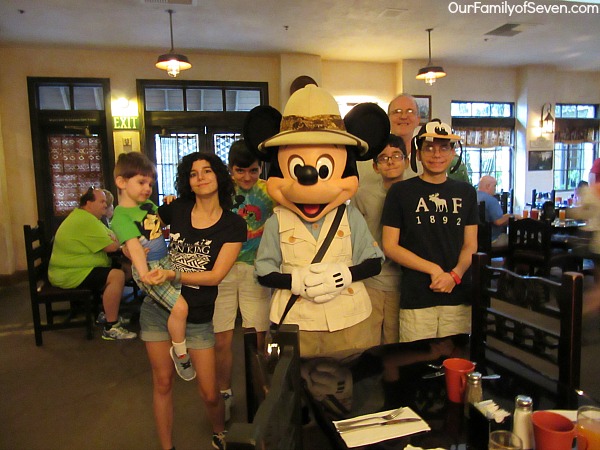 Free Dining sounds awesome, but what's the catch? Well, you do have to book your reservations before July 10th, 2015 to catch in on the deal. MANY room options are already sold out for the offer. If your resort level or dates available for travel are sold out, you may want to consider looking for what is available. Book the offer while it is available or keep checking throughout the promo for addition rooms to become available. Sometimes vacationers change their resorts or dates or even cancel their reservations after they have booked. If they should change, your package may become available.
Also note, the free dining promotion requires you to purchase at least 2 days of non-discounted Park Hopper Park Hopper or Water Park Fun & More Option. The package is automatically calculated with length of stay tickets. You will have the option to remove the additional days if you should choose to.
Here are so important Disney Free Dining 2015 Details:
Book Through
July 10, 2015
Valid Travel Dates
August 28 – October 2, 2015
October 25 – October 31, 2015
November 8 – November 19, 2015
December 15 – December 21, 2015
(Disney's Port Orleans Resort—Riverside is excluded from travel October 25 – December 21, 2015.)
Package Includes
Room
Theme park ticket(s) with Park Hopper or Water Park Fun & More Option
Dining Plan (Disney Quick Service Dining Plan with Value Resort hotel packages; Disney Dining Plan with Moderate, Deluxe and Deluxe Villa Resort hotel packages)
Important Details
The number of rooms allocated for this offer is limited.
Tickets and Options must be used within 14 days of first use.
Everyone in the same room must be on the same package.
Advance reservation required.
Children ages 3–9 must choose from the children's menu, if available.
Some table-service restaurants may have limited or no availability at time of package purchase.
Excludes alcoholic beverages and gratuities.
Length of Stay Requirements
Minimum – 3 nights
Maximum – 14 nights
Offer Restrictions
Cannot be combined with any other discount or promotion.
Offer excludes campsites and 3-bedroom villas.
We are planning to announce our Disney vacation plans to the kiddos this weekend. Be sure to drop back by the blog to see how we make the announcement "Magical". I will also be sharing our trip planning details like making restaurant reservations and tips, traveling to Disney with a large family, ways to save when heading to Disney, and also a review of our last visit and resort at Disney. Additionally I will be sharing our experiences and tips for flying and visiting Disney with Autistic Children.