Zucchini Bread is simple and easy to make from scratch- no yeast needed. This homemade loaf is so moist, delicious, and healthy!
Making bread from scratch can be tricky, difficult, or just plain hard- not with this recipe! Zucchini Bread doesn't use any yeast, is easy to mix up, and is loaded with healthy grated zucchini.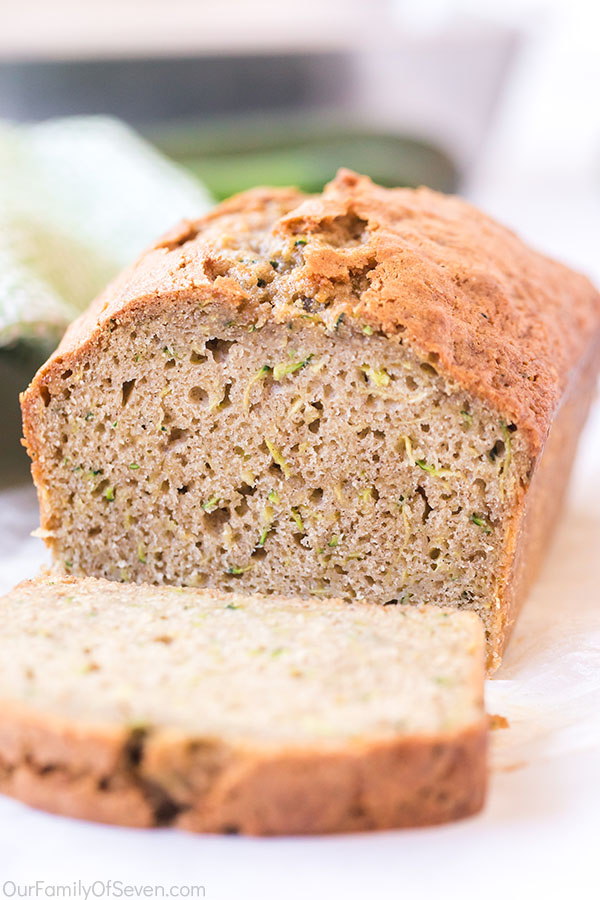 Zucchini Bread
While I don't have too much trouble making a classic loaf of bread nowadays, I used to suck at it. Figuring out the right amount of water, getting the moisture just right- don't even get me started on starting and using yeast. A lot of folks are interested in making bread from scratch and don't know where to start. I think that this Zucchini Bread recipe is the perfect place for beginners to start their bread-making journey!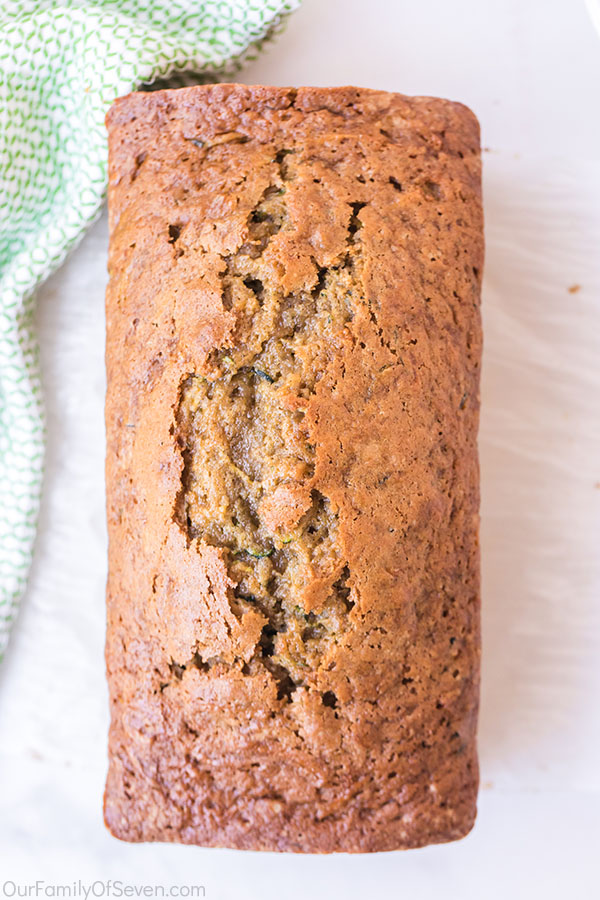 Zucchini Bread checks off a few important boxes that keep it as one of my favorite bread recipes. One, it's delicious- plain and simple. Two, it's an easy recipe- these recipes that use a "bread batter" are some of the easiest and most approachable recipes in breadmaking. Third, it's pretty healthy- seeing as it's loaded up with plenty of grated zucchini!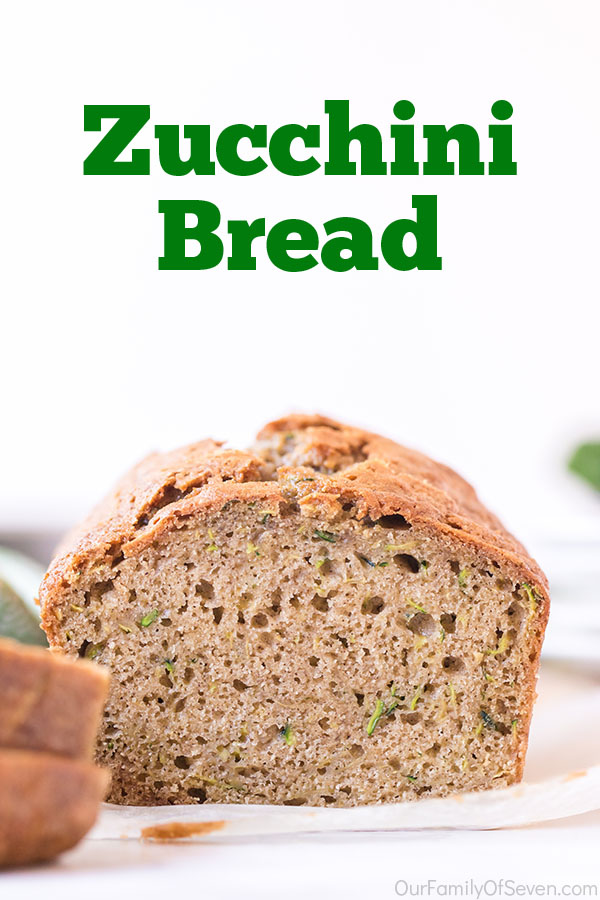 We've taken a few steps to keep this homemade Zucchini Loaf as easy as possible. We skip out on peeling the zucchini and we don't drain it or dry it after grating it. Doing this helps our bread end up nice and moist. We also keep the flavors very simple: just add a bit of vanilla and a touch of cinnamon- those little bits will go a long way!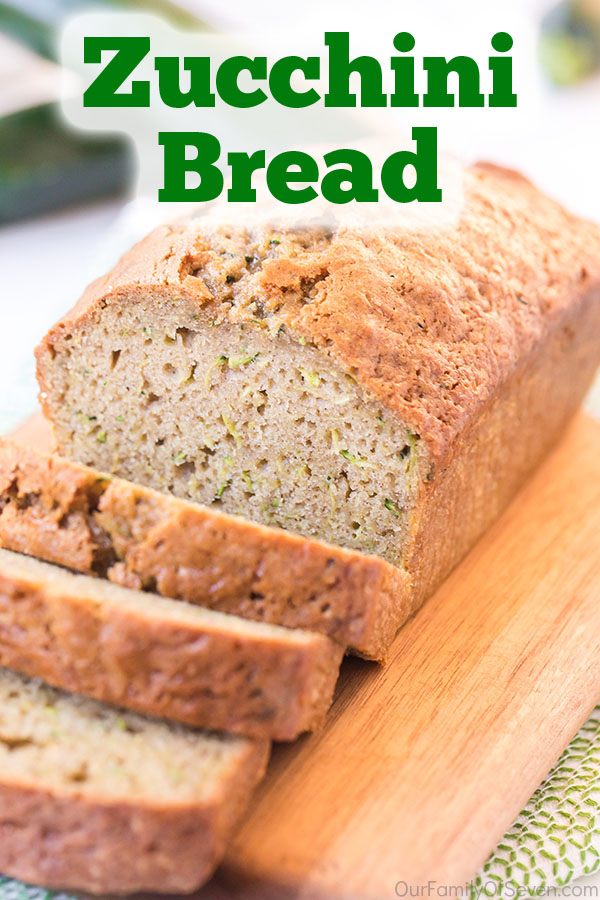 Whether breadmaking is second-nature to you or you're just starting out, you'll find something to love about this recipe. Once you've made a loaf up, try pairing your zucchini bread with applesauce or your favorite butter spread. However you serve it up, we hope you love our homemade bread recipe!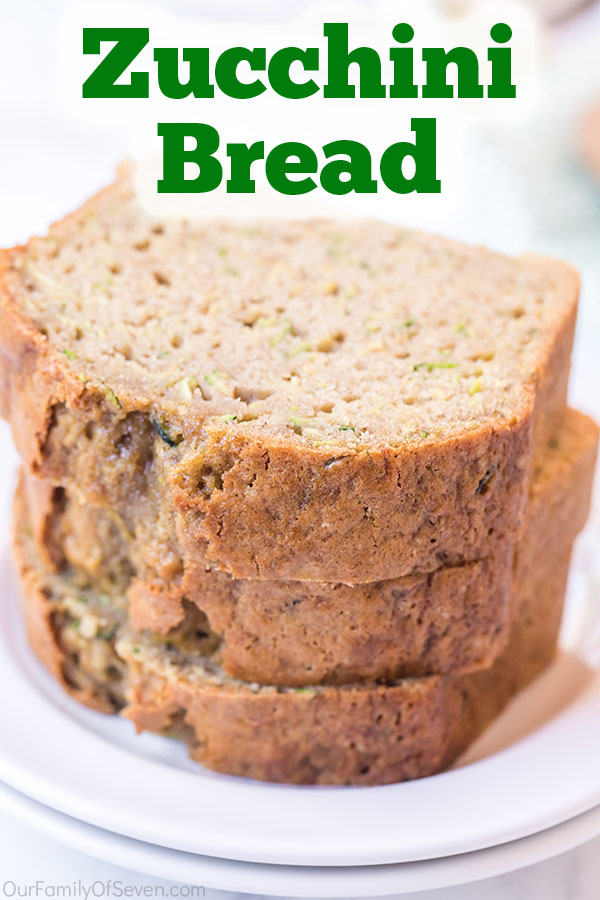 Homemade Bread Ingredients
Eggs

Vegetable Oil

White Sugar

Light Brown Sugar

Vanilla Extract

Grated Zucchini

– Don't pat this stuff dry or drain it off! We want that juice!

Flour

Salt

Baking Soda

Baking Powder

Cinnamon
Feel free to mix in some nuts with your bread-  softer nuts like walnuts or pecans work best in this recipe!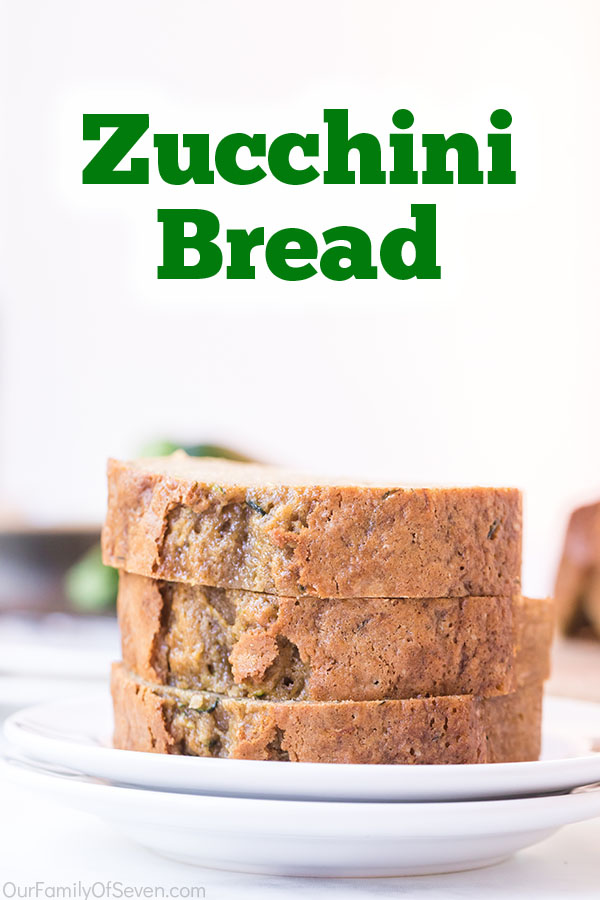 How to make Zucchini Bread
Making our Zucchini Bread is very simple. Here's all you'll need to do…
Prep and mix your wet ingredients

before

adding in your dry ingredients

and

stirring until combined

.

Transfer the batter to greased and lined loaf pans

.

Bake your loaves at 325 degrees for about 55-65 minutes

before

letting cool

and enjoying.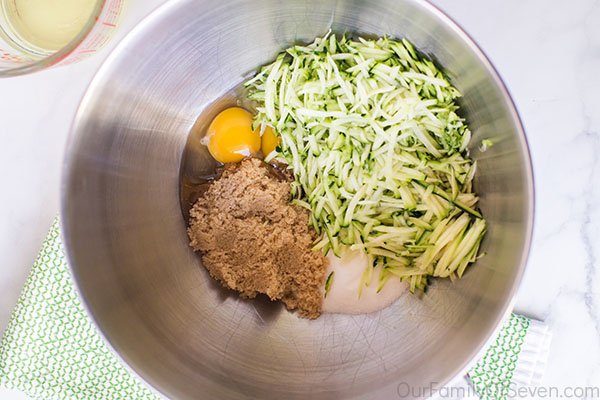 Start this recipe off by first mixing up all your wet ingredients first. Mix your eggs, vegetable oil, sugars, vanilla, and grated zucchini together in a large mixing bowl.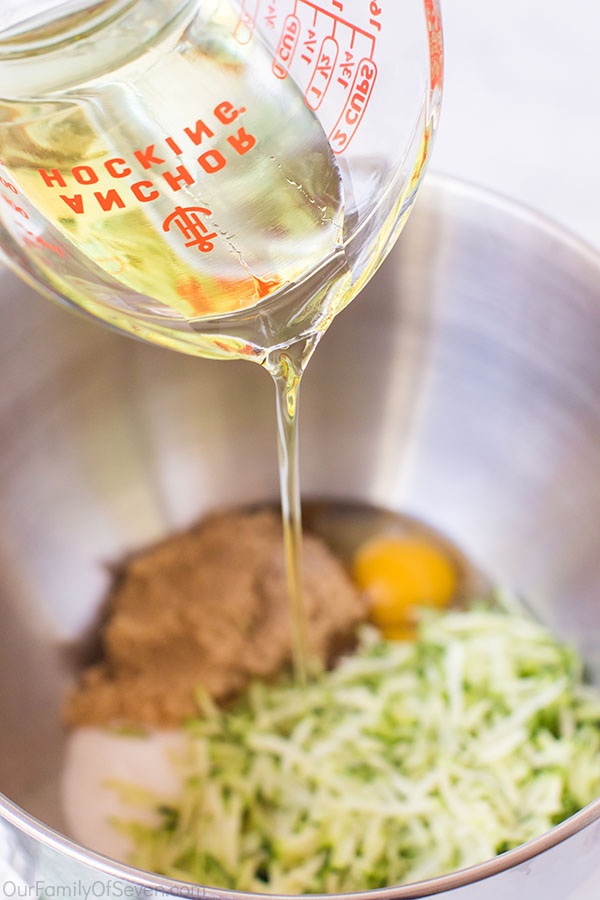 In a separate bowl, assemble all your dry ingredients. That's going to be your flour, salt, baking soda, baking powder, and cinnamon.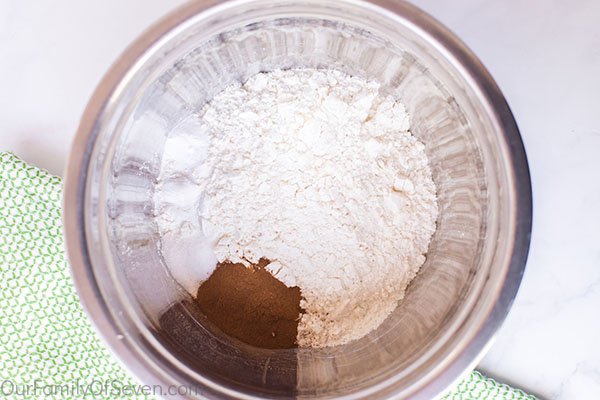 Give all those a quick whisk until well-combined.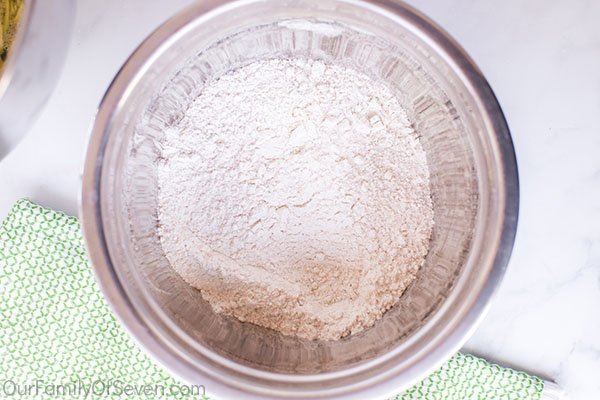 Now it's time to mix the wet and dry ingredients together. Pitch in the wet ingredients and start stirring everything together.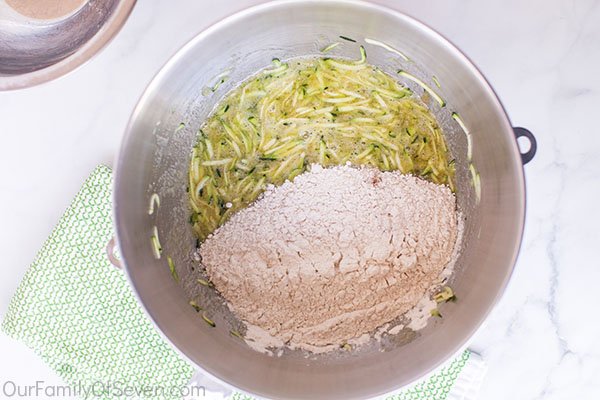 Be careful not to overmix your batter at this point. If you overmix, there's a good chance that your loaf will end up sinking in the middle. Stir until everything has just combined.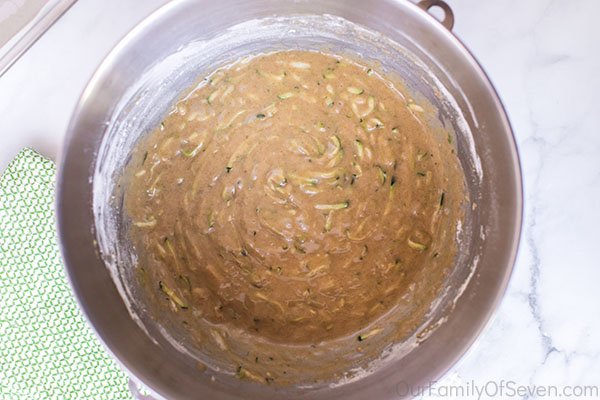 With your batter all mixed up, we can transfer it to some greased and lined loaf pans. This amount of batter is perfect for two 8×4 loaf pans!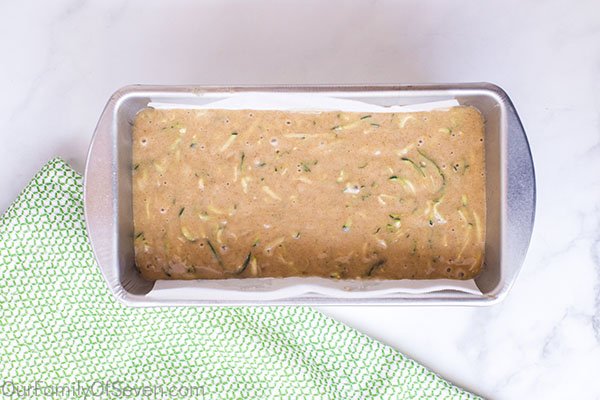 Transfer your loaf pans to an awaiting 325 degree oven and let them bake. They'll need about 55-65 minutes to bake fully- check for doneness by poking with a toothpick. If the toothpick pulls clean, the loaf is done.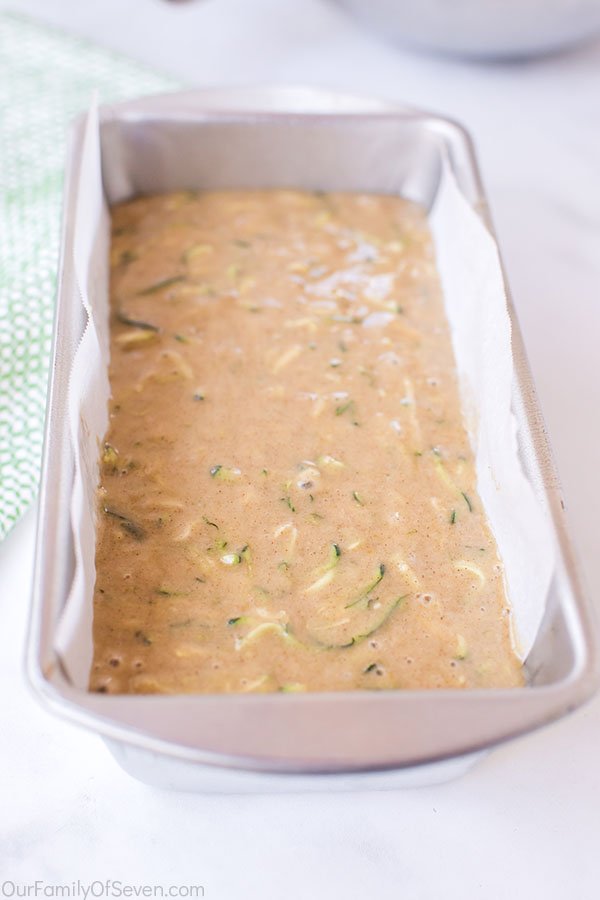 Let the loaf cool in the pan for about 20 minutes before lifting it out and let it finish cooling on a wire rack. Once cooled, hack off a slice and enjoy!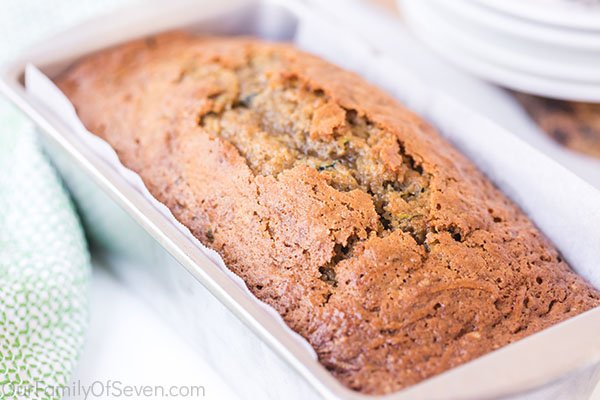 Should I peel zucchini before grating it?
No need to peel the zucchini for this recipe! Leaving the skin on your zucchinis saves you the extra step of peeling.
There's also plenty of nutrients in the skins, which will help keep your zucchini bread healthy
!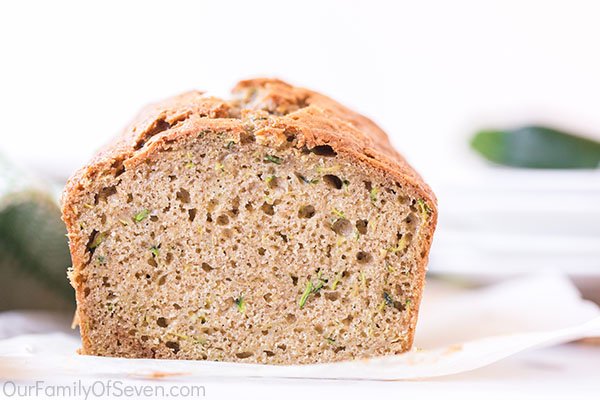 How long does Zucchini Bread last?
Once your Zucchini Bread has cooled, store it in an airtight container. Kept on the counter, your loaf should last about 2-3 days. If you keep it in the fridge, expect it to last around a week. For long-term storage, keep it in the freezer where it'll stay fresh for about 2-3 months.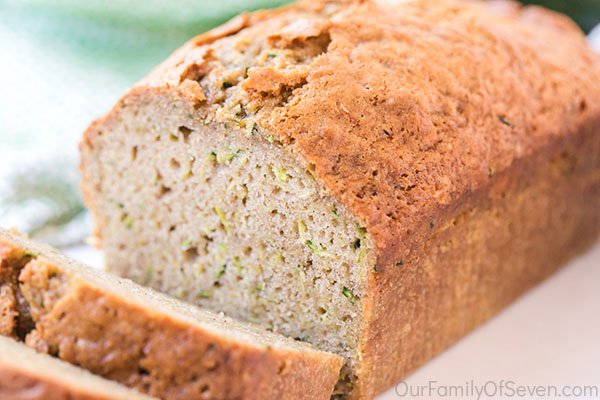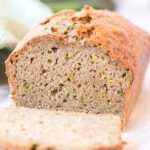 Print Recipe
Zucchini Bread
Zucchini Bread is simple and easy to make from scratch- no yeast needed. This homemade loaf is so moist, delicious, and healthy!
Ingredients
3

Eggs

1

cup

Vegetable Oil

1

cup

Sugar

1

cup

Brown Sugar

1

tbsp

Vanilla Extract

4

cup

grated Zucchini

don't pat dry or drain juice (about 2 medium sized zucchini)

3

cup

Flour

1

tsp

Salt

1

tsp

Baking Soda

1

tsp

Baking Powder

1

tbsp

Cinnamon
Instructions
In a medium sized pan, mix eggs, vegetable oil, sugars, vanilla extract, and grated zucchini.

Stir in flour, salt, baking soda, baking powder, and cinnamon until combined.

Add in grated zucchini and stir until just combined. Do not overmix.

Grease and line with parchment paper two 8x4 sized loaf pans.

Pour batter into pans and bake in oven for 55-65 minutes.

Bread should bounce back when lightly touched and a toothpick should come out clean.

Cool loaves in pan for 20 minutes on a rack.

Remove from pans and finish cooling.
Notes
The reasoning behind not draining or patting dry the zucchini is that it adds to the moistness of the bread. It also omits an extra step.