Knockout summer boredom with these 25 Fun Water Activities for kids. You can keep them entertained all summer long.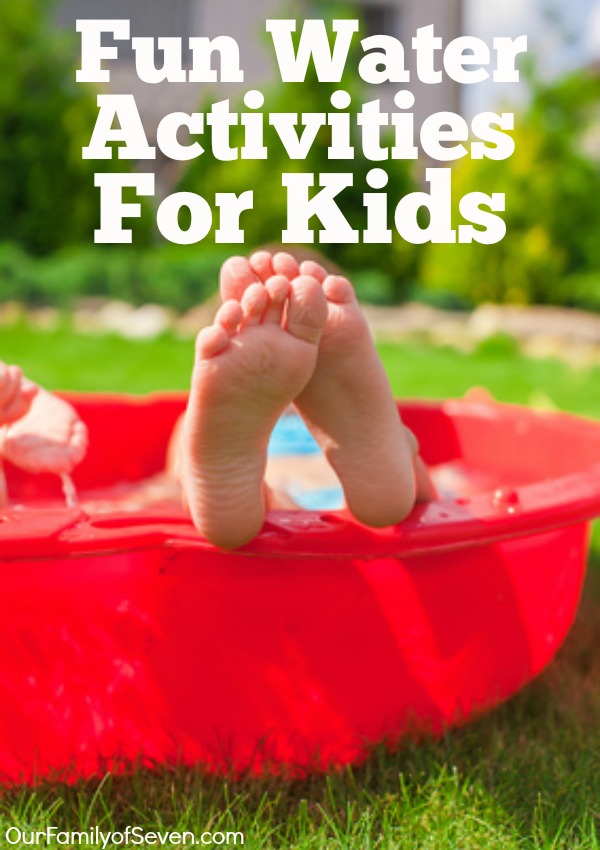 25 Fun Water Activities for Kids
My little guy, like most toddlers, has a huge fascination with water. He will play for hours in his wading pool or with toys in his water table. My big kiddos are the first ones to break out their swim suits to enjoy some hose fighting as they call it. Warm weather will be here before we know it.
Take a look at these easy and fun water play activities that will keep your kiddos cool and entertained all summer long.
1. Water balloon fight or sponge water bomb fight (find out how to make them here)
2. Slip and slide
3. Make water puddles
4. Fill up water buckets
5. Have a water gun fight
6. Create a water obstacle course
7. Play in a water sprinkler
8. Have a boat racing game in the inflatable pool. you can make these fun Pool Noodle Boats found here
9. Make a homemade pool out of a tarp
10. Have a kiddy carwash and wash all of the toys outside
11. Water balloon toss
12. Water balloon relay
13. Water obstacle course
14. Water volleyball
15. Make art out of ice
16. Bathtub fishing
17. Homemade splash pad
18. Sensory water bin
19. Water table
20. Make popsicles
21. Homemade dunk tank
22. Hot potato using a water balloon
23. Painting using a sponge, water, and paint
24. Water basketball
25. Water the garden
If your kiddos enjoy other fun water activities, be sure to share. We are always looking to add some fun to our summer.
Be sure to checkout these fun water play crafts that I have shared…